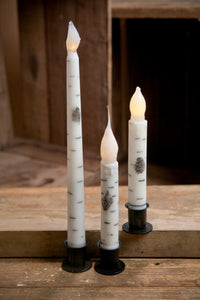 Birch Bark Tapers
NEW!  Our birch bark tapers come in three sizes.  6" standard taper - $4.50;  7" silicone tip taper - $6.25 and 11" silicone tip taper - $6.50.  All tapers have timers.  Minimum 3 each.
Our wholesale area is only available to registered wholesale vendors. To qualify for wholesale purchasing, you must have an actual, verifiable store front. Please include the actual physical address and phone number of your shop - not your personal phone number. If your shop cannot be easily verified, you may be asked to provide additional information such as a business ad, yellow page listing or photos of your shop.
YOU MUST INCLUDE YOUR EMAIL ADDRESS ON YOUR WHOLESALE APPLICATION. We cannot respond to requests that do not include an email address.
If you do not get a reply, please check your spam folder!
---
More from this collection